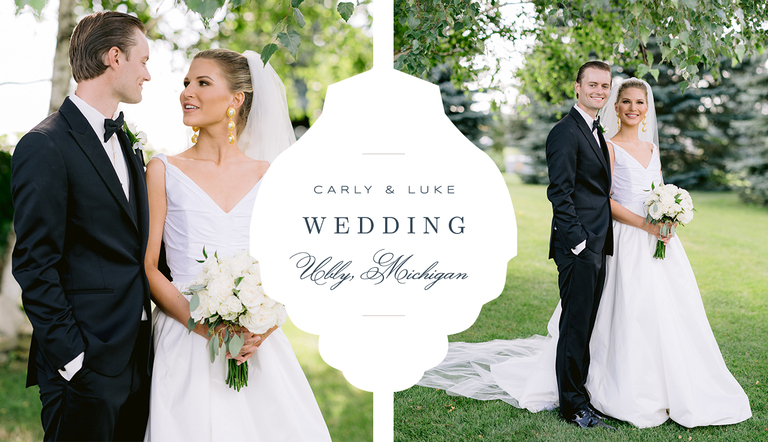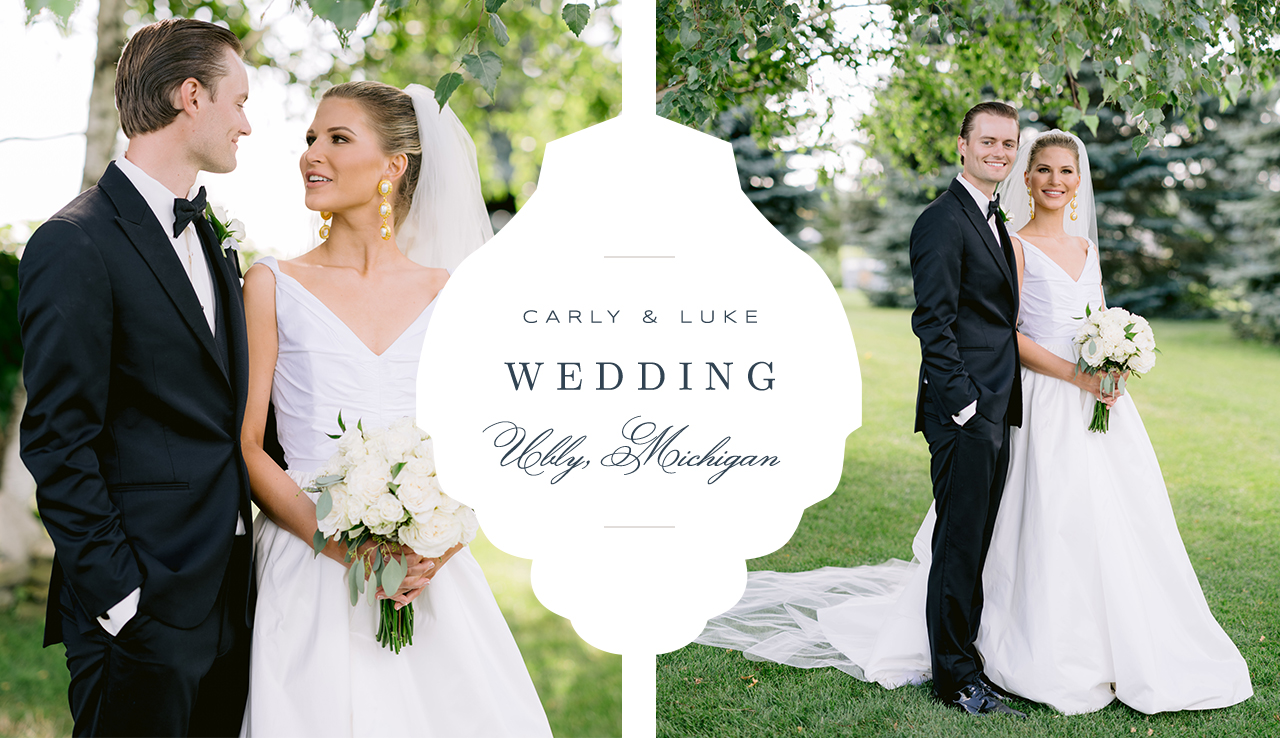 Carly & Luke's Country Estate Wedding Photography was on a gorgeous, summer day in lower Michigan! The day was filled with laughter and fun by all who attended. This couple shared a wedding that was just as classy as they are!
I started the day at the brides parents home where all the girls were getting ready for the wedding day! Carly had so many beautiful details and I couldn't wait to photograph them all. To make sure things go as quickly and as smoothly as possible we always encourage our couples to have their details laid out prior to our arrival. After details were photographed I then stepped outside with the girls to take some fun champagne popping photos. With the fun outside finished, the bride's mother helped her into her beautiful gown from
Lamour Bridal.
Once in her dress Carly put on her gold earrings and Jimmy Choo wedding shoes. It's so fun to see the final look come together for our clients, we know how much thought goes into it all!
I then headed over to the see the groom and groomsmen. They were all in good spirits as they finished getting their details together. A nearby park offered beautiful scenery and lighting for portraits before heading over to the wedding ceremony!
Carly and Luke tied the knot in the brides parents backyard. The blue skies, green grass, and large trees made for a stunning background. Carly walked down the aisle by her parents side and Luke had the biggest smile on his face. I love capturing these special moments! After seeing each other for the first time on their wedding day, Carly's mom gave her a hug and dad lifted her veil. The two stood together hand in hand while reading their vows and exchanging their rings. The ceremony ended with a kiss and cheering from all the guests!
I was looking forward to capturing all the beautiful details by 
Festoons and Flourishes
! The reception showcased topiaries, white florals, tall candles, and gold silverware. After a lovely cocktail hour, the party moved to the reception space. The couple kicked off the reception with a traditional first dance and cake cutting. With everyone seated they all enjoyed speeches from the maid of honor and best man. After a delicious meal the formal dances took place.
Carly then slipped into a 2nd dress for the party and we had just enough time to capture sunset portraits. The tall grasses nearby made for a great backdrop as the sun started to dip below the horizon. Just before the evening glow disappeared, everyone lit lanterns that filled the nights sky. The evening was filled with fun and high spirits. An absolutely perfect end to a gorgeous wedding day!
I am so happy that I was able to give this classy couple beautiful photographs that they will enjoy for many years to come. Cheers, Carly and Luke!