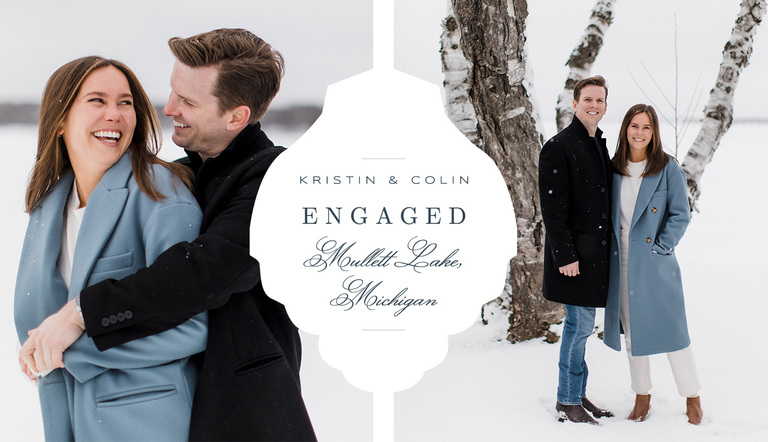 Kristin & Colin's Michigan Lakeside Snowy Engagement Session was in the quaint community of Mullett Lake Village in Northern Michigan. Mullett Lake holds a special place for Colin and his family as they spent summers in the area. He knew that he wanted to capture some engagement photos in this special location!
We began the session in the warmth of the family home with the fireplace roaring, warm drinks in hand, and a deck of cards ready to be dealt. We love to incorporate cute ideas like this into engagement sessions with our couples! 
After getting nice a toasty by the fire Kristin & Colin layered up and prepared to brave the elements of winter. Despite the cold, these two were totally prepared to trek through the snow to multiple gorgeous locations. We made our way out to frozen
Mullett Lake
which is part of the
Inland Waterways
. The waterways is a forty two mile trip that guides you through three rivers and three lakes. If you ever get a chance to do it you will see some of the most beautiful scenery in Northern Michigan!
Our next location was in a beautiful wooded area and utilizing the snowmobile trails that were nearby. We lucked out with a snowstorm the day before the session and all the trees were totally snow covered. The picturesque landscape amplified how stunning the winter season can be!
If you don't think winter is a magical time, this Michigan Lakeside Snowy Engagement Session just might force you to think again!
Are you recently got engaged? We would love to start a conversation about creating a uniquely "you" engagement session! Get in touch with us
here
.